Audi A6 Estate 2005 ? 2011 Boot Liner Fitting Instructions
Our ref: H0384
Read offline:

Download PDF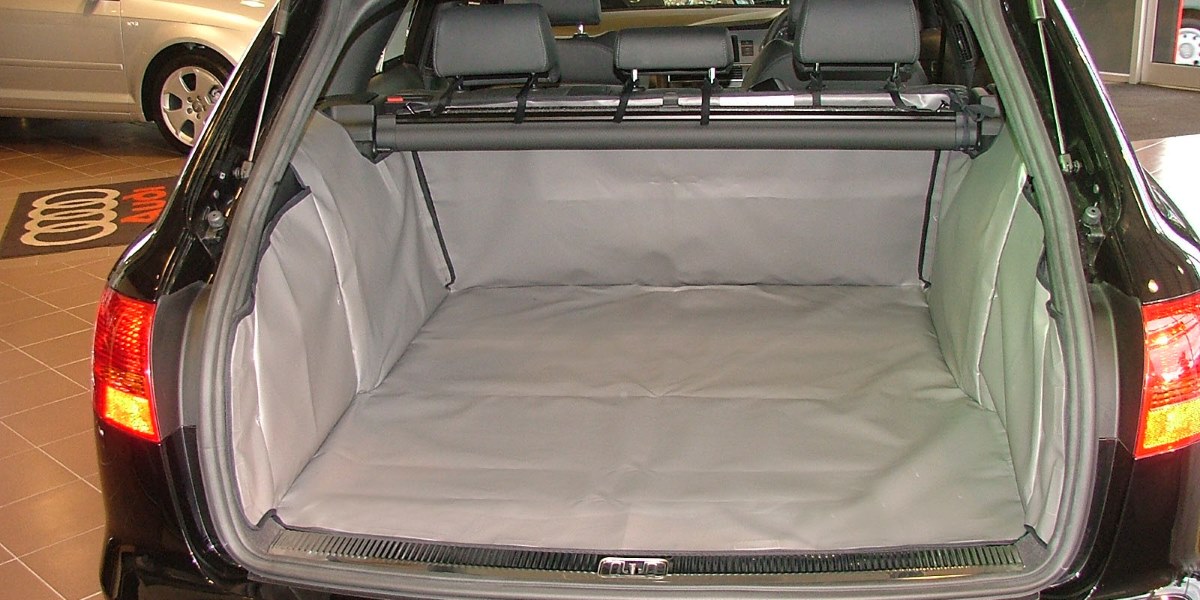 PACKING REQUIREMENTS
Boot liner
With mesh net cassette
Minimum of 12 self-adhesive loop fastener tabs
6 X 107
2 X 104
2 X 114
6 own Base tabs
Tailgate cover
Minimum of 17 self-adhesive loop fastener tabs

VERY IMPORTANT PREPARATION
To ensure a good bond, when using the self-adhesive fasteners to attach the Bootliner to the plastic / metal trim (Not the carpet); it is most important to remove silicone film from the vehicle trim.
Silicone is applied during manufacture and can also be found in many valeting products. It is highly likely there will be a build-up of silicone. Before applying any self-adhesive fastener pads, the surface MUST be thoroughly cleaned using a silicone remover. (The fastener cannot be used once it has been in contact with silicone).
We recommend "Intensive Tar Remover" made by AutoGlym and available from Halfords. Wipe off thoroughly any residue with a separate clean dry cloth. Unfortunately we are unable to supply this product, as it cannot be transported via our postal carrier.
NOTE: the adhesive takes 24hrs to reach full adhesion – do not touch during.
PREPARATION
Remove the load cover cassette, it can be replaced later.
Place liner into car and unfold.
PHOTO A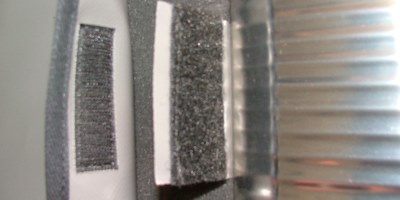 PHOTO B
FITTING
BASE
Position base of liner snugly into place.
Photo A
At tailgate end of base: Locate the six hook fastener welds on the reverse side of the liner. Attach the six Base tabs to the under floor plastic moulding. Ensure they are aligned with the hook fastener welds. Use the selfadhesive loop fastener pads
Photo B
The tabs will protrude out of the floor panel when its replaced allowing the liner to be fastened closed to them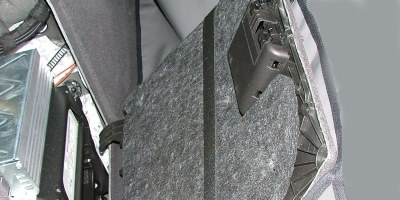 PHOTO C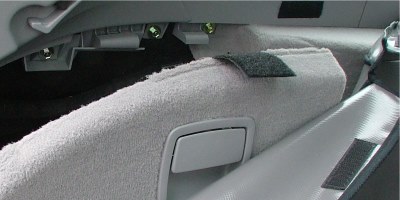 PHOTO D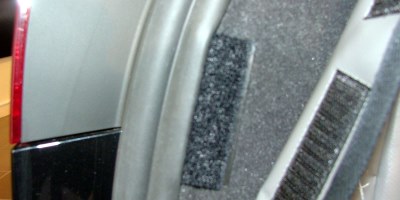 PHOTO E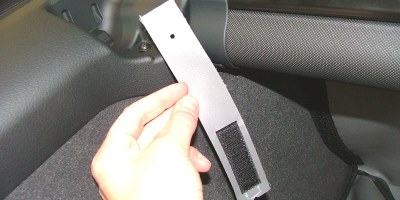 PHOTO F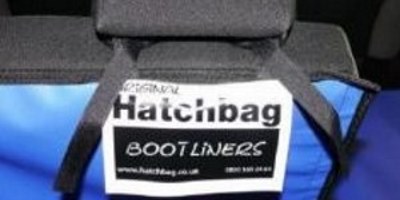 SIDES
Photo C
Unlock the two access panels in the sides of the car. The lengths of elastic sewn onto the reverse face of the liner sides pass over the panel doors and sit almost midway down.
Photo D
Stick the two 104 tabs to the inner side of these panels in line with the welds on the back face of the liner. The liner fastener closes to the protruding section of these tabs when panels replaced.
Photo E:
6x107 clips.
Pull back the rubber seal on the door aperture to reveal the top corner edge of the carpeted panel. Slide the curved section of the "J" profile over this Reposition to align with fastener welds, and fasten close. Repeat for opposite side.
Photo F
(note the net cassette has just been dislodged in this photo) When the load cover cassette is removed you can access two small screws in the net cassette recess lock. Remove the screws, and then replace with the 114 tabs passed over them. The tab hangs down to fasten close to the liner. The section that sits up to the air vents just requires the small self-adhesive loop fastener tabs. The tie can be fastened around the cassette
FRONT
Position the front of liner against the back of the seats
Align the hook & loop fastener straps with the headrest posts. Each strap should be passed around its corresponding post, and "fasten closed"
REAR PLUS VERSIONS
YOU MUST UNFASTEN THE FASTENER or THE HEADREST STRAPS BEFORE YOU RECLINE THE REAR SEAT UPPERS